ScrewPresses1.jpg

Lower fat residuals, lower maintenance costs, unsurpassed durability.
Rendering Screw Presses
Dupps rendering screw presses are engineered to out-perform and out-last ordinary screw press designs.
Pressor® high pressure screw presses are available in a wide range of sizes and configurations to meet every rendering application—from the largest, with a 13" shaft that increases throughput and handles soft, difficult-to-press materials, to a compact and efficient 7" model ideal for smaller plants. See More.
See what's behind Pressor's rugged dependability — click here to request access to a 3-D animated demonstration!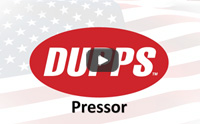 Designed to produce lower fat cakes from a variety of materials, Pressor screw presses are available with horsepower ratings between 30 to 300 HP and a choice of shaft configurations—including the new Dupps Hybrid HCPR shaft. 
All Pressor models offer proven reliability, rugged construction and feature a single motor to drive all mechanical parts.Download brochure.
The patent-pending hybrid HCPR (High Compression Press Release) design combines high compression with a release/re-compression feature. By compressing material twice, the HCPR releases more residual fat. In the same way that squeezing a household sponge twice releases more moisture, the HCPR shaft can release more fats by eliminating voids in the feed as it travels through the press. 
Combined with precision-cut barrel bars, the HCPR shaft can provide up to 25% lower residual fat in pressed crax for most rendered products. Which means that depending upon Pressor capacity, the HCPR shaft can deliver up to 110 lbs. more fat per hour. Download HCPR brochure.
Dupps High Volume Horizontal Screw Presses feature adjustable clearance between screen and shaft flighting, a pneumatic choke with a torque-limiting device for lock-up protection and a heavy-duty gearbox with a variable speed drive to compensate for material feed changes. Download brochure.
New   Low-Ash Pet Food Poultry Meal Pressor® This new 12-12-4 Pressor has been adapted to solves one of the industry's most difficult challenges by producing meal that is higher in protein and lower in fat, with greater throughput. See More.
New   Pressor® for Hydrolyzed Feathers fits an extremely small footprint, making it ideal for all kinds of plant configurations. This versatile press features a variable frequency drive lets you adjust for maximum efficiency according to your throughput and moisture content requirements. See More.
Dupps hybrid HCPR™ screw shaft for Pressor high-pressure screw presses can extract more fat by dramatically lowering residuals in most rendered products.
Plus . . . Dupps High Volume Horizontal Screw Presses are your best choice for large volumes of shear sensitive materials, including slurries and hydrolyzed products such as hog hair and feathers. See More.